Graphical Visualization Client
Glance connects OPC, InfluxDB®, and Aveva® PI System® Users to their process data information in a Real-Time, HTML5 web-based environment that performs on nearly any mobile device or desktop.
Elevate Data Evaluation: Unleash the Power of a Graphical Visualization Client
Unlock Real-Time Process Data Access with Glance: Connect Users Anywhere from a Mobile Device and Replace your PI ProcessBook Applications.
"Glance has been an excellent product. Its intuitive interface requires minimal training and we see cost savings due to the seamless integration of our existing ProcessBook graphics which now can be used on mobile devices. Glance keeps our users connected whether they are in the office or in remote locations."
Single Point of Use A single website interface does it all: stores, organizes, searches, views real-time information, mines data, builds dynamic process displays, etc.
HTML5 Display Builder Web-based screen builder that looks and feels like a desktop application.
Scalability Store thousands of displays, from fleetwide implementation to monitoring a single process.
Affordable Licensing Models Licensing can be customized to fit customer needs. Popular options include the per named-site and server connection/tag count licenses. Both options offer unlimited end-users and devices, giving connected users the ability to view and build displays.
Built on Industry Standards Supports streaming real-time and archived process information from both OPC servers and Aveva PI Systems.
Lightning Fast Searchable Metadata Allows users to find the desired information within a fleetwide library of displays.
Any Modern Device Fully web-based and accessible from modern browsers and devices such as iPads® , iPhones® , Android™ phones and tablets.
Symbol Library Graphics provided by Software Toolbox's Symbol Factory gives users access to thousands of high quality pieces of artwork when building industrial process displays in Glance.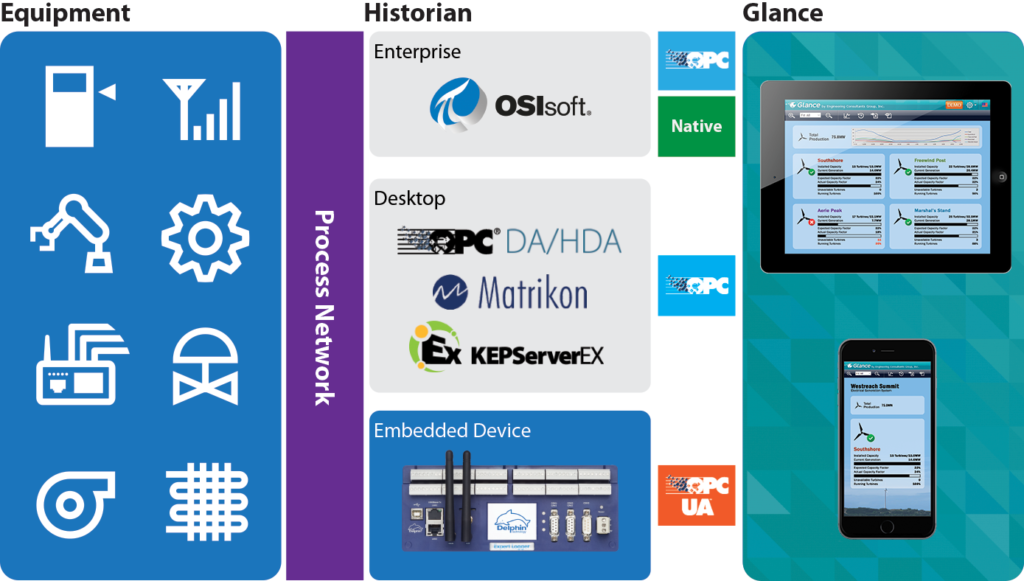 Access Industrial Automation Information
Increases awareness by allowing users to access, visualize, and evaluate critical process information from the convenience of their mobile device.
Live Process Data
Users have access to a live stream of updated data in fully featured Interactive trends: zoom, expand, and pan with simple gestures.
Display Builder
The Integrated Web-Based Builder gives every connected user the ability to quickly view and build process displays on-the-fly.
Turnkey Solution for IIoT
Provides a single cross-platform website for viewing and building displays on client workstations and mobile devices. Harness your sensor data to make efficient and informed decisions.
Purely Web
Lightweight web-based client runs on all modern mobile devices and desktop browsers that support HTML5 with no add-ons required. Graphical process screens update dynamically in real-time utilizing HTML5.
Drill Down
Tooltip values and ad-hoc trends provide a drill-down user experience. Interactive trends allow users to view trend cursors, zoom in on signals, and select any time range.
International Support
Through Unicode support, the entire Glance website can be experienced in other languages including English, French, German, Chinese, and Hindi. Users may select their preferred language, time zone, date, and number formatting.
Tailored for Your Company
Customize the look and feel of Glance to match your facility's corporate identity guidelines, including logos and color schemes
Find Your Data Fast
Advanced searching allows users to search for metadata throughout the library of real-time display files as well as perform Integrated searches throughout PI Systems, PI AF databases, and OPC Servers.
Fast and Intuitive
Tree view navigation allows users to find displays within their corporate or asset hierarchy. Public Folders can be customized by department, facility, area, and more!
Interactive Trends
Robust interactive trending includes zoom, time period selection, multiple scales, data export, streaming real-time data, and much more.
Direct Data Connections To...
OPC DA/HDA and UA Servers
One Time Conversion
Users can log in and upload their existing Aveva® PI ProcessBook® files into a web-friendly format with just a few clicks while maintaining performance and user experience.
View Anywhere
Uploaded PI ProcessBook displays can be viewed while in the field in real-time away from your desk!
Edit On-the-Fly
Once published in Glance, users can utilize the Integrated Web-Based Builder to modify uploaded displays.
Robust Search
Supports searching and trending classic PI tags as well as AF Elements and Attributes.
AF Element Relative Displays
Supports rendering and interacting with AF Element Relative Displays.
OPC Support
Employs standard OPC Data Access (DA), OPC Historical Data Access (HDA), and Unified Architecture (UA) specifications to retrieve and visualize real-time and historical data from any compliant OPC Server.
Lightweight Data Historians
By leveraging lightweight data historians, users have a simple and affordable solution for viewing their equipment process information through Glance's enterprise architecture. Glance's OPC HDA data interface has been tested with PTC's Kepware ExServer Local Historian and Honeywell's Matrikon Desktop Historian as well as many other OPC HDA servers.
Build and View Anywhere
Use the Glance Display Builder on any web-enabled device to create and modify real-time displays that include OPC data.
Near Native Performance
Visualize industrial control systems in a responsive, thin client environment that performs like a native application.
Intuitive Drawing Tools
Create displays in just minutes with the Builder's simple and intuitive ribbon toolbar. The drawing tools (values, trends, gauges, etc.) are user-friendly and require minimal training.
Access guides, manuals, software downloads, training videos, and more in our product support center.
Contact us to set up a presentation with one of our product specialists.